Vue su PreWarCar
http://www.prewarcar.com/magazine/previous-features/about-quiz-417-an-ego-4-14ps-028967.html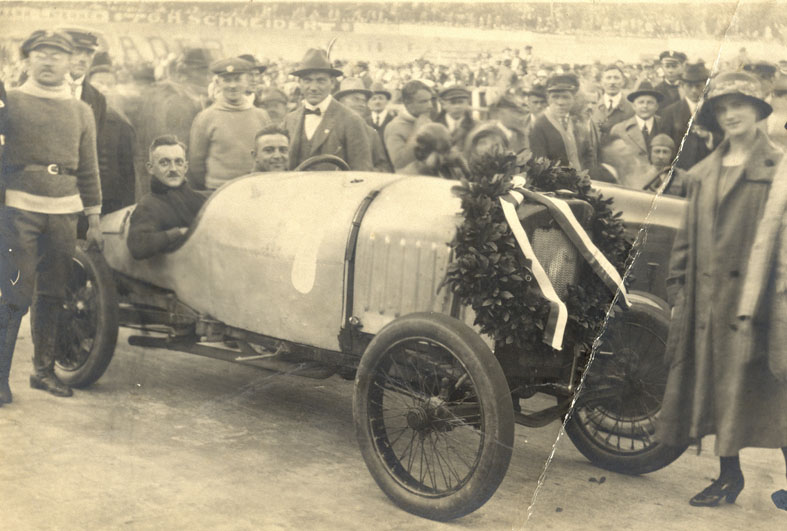 Texte PreWarCar :
As most of the knowledgeable readers found out, it is indeed an EGO 4/14 PS, with Carraciola at the wheel. But it is not the winning EGO from the Stadium Race 1923. The foto shows a similar EGO with Carraciola, probably in another Race on the Stadium track in Berlin.
The firm EGO, began as Merkur Flugzeugbau (aircraft construction) in Berlin Treptow. They began in 1910 with licence built Rumpler Taube- and later Albatros aircrafts.
During the war they built mainly engines in licence from Albatros. After the war they where not alowwed to built planes and parts of them anymore, but they had a trained working force and very good equipment. So they decided to build cars.
The first Type was the 4/14 PS (HP) MKA which was shown to the public at the car exhibition in Berlin 1921. The MKA had a four cylinder engine of 1030 cc capacity. The sidevalve engine had a detachable cylinderhead. Only the crankshaft, radiator, wheels with tyres where bought in. All the other parts were built in the factory, even the complete car electric with the ignition system were built inhouse. As this was quite expensive, the prices of the car were on the high side and it didnt help the sales.
In 1922 the power was risen to 16hp. Later the frame was a little bit extended. In 1923 a new engine was constructed and the now Type MKB called EGO developed 20 HP.
EGO took Part in numerous competitions in the years 1923 and 24. The victory in the Stadium Rennen 1923 was the most prominent for the firm. But as the car was expensive to produce, the firm didn't made enough money in the then inflation times and so the complete factory was sold in 1924. The name of the new firm was Hiller Automobilfabrik AG. But the cars were still sold under the name EGO for some more years. They developed a new Type, 5/25 which was built only in fairly small numbers. In 1926 the receiver was called and the buildings in Treptow were sold to Puhl & Co, a soap factory, and the machines to a machines dealer in Karlsruhe. The name EGO was sold to a firm in Berlin Baumschulenweg and they built some cars out of spare parts and built spare parts for other EGO owners. In 1931 this firm ceised to exist.
All in all EGO built probably less than 1000 cars of all types and today at least three are known to exist.